Fabrication Services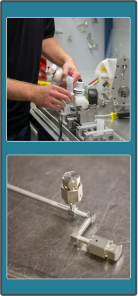 Our fabricators are experts with years of field proven experience. They are tested and certified on a wide variety of plastic, manufacturing techniques, tools and equipment. This emphasis benefits our customers with exacting standards of quality, purity and precision, as well as shortened manufacturing times and reduced costs. 
We specialize in the following fabrication services:
Hot Air Welding
Heat Bending 
High Purity Fusion Welding for Teflon, PVDF & Polypropylene
High Purity Stainless Steel Orbital Welding
PVC Socket Welding
Socket Welding
All High Purity asseblies are manufactured in an Iso Class 6 Cleanroom
Field Service Solutions

Although our systems are designed so that maintenance costs and downtimes are minimal, sometimes maintenance is necessary. Chemical system environments can be harsh and system technologies often require a constant need for replacement parts, rebuilding of specific sections, upgrades and retrofits. We understand that not every company is in need of a new chemical system, so our field team works on not only our own products, but most brands of fluid delivery systems and analytical equipment manufactured over the past 20 years.  For systems that we support, we can perform most preventive maintenance tasks. 
Some of the specialized services we offer:
Operational Assessment of Legacy Systems
System Maintenance, Repair and Retrofits
Preventive Maintenance

Pump and Valve Rebuilds

Manifold Replacements and Retrofits

Procedural Development and Implementation

System Troubleshooting and Calibrations

Electronic Replacement

CAD / Programming Support
Quality Control Systems and integration 


Diversified Fluid Solutions Blog