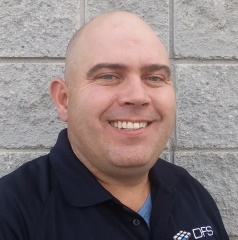 Chris Romick
Controls Manager
Diversified Fluid Solutions

Chris Romick is the Controls Manager of Diversified Fluid Solutions, where he is responsible for the programming and networking of all DFS chemical and gas equipment. Chris has been a part of Diversified Fluid Solutions since the company's inception in 2009 and brings over 15 years of experience in the semiconductor industry, fluid blending and delivery systems. His drive for customer satisfaction and continuous product improvement encourages strong customer interactions providing the high-quality, operator-friendly product and services that Diversified Fluid Solutions offers.
Chris gained extensive experience working for a large semiconductor manufacturer, where he participated in the design, operations, maintenance, system construction and installation of over 100 systems, in both existing production and green field semiconductor facilities. Prior to joining DFS full time, Chris worked for 13 years in various roles in the Chemical Service Department. He was also a Supervisor leading teams responsible for the Operation and Maintenance of over 100 chemical distribution systems and the site water and waste water treatment equipment. He holds a Journeyman Specialty Electrical License with the State of Idaho and a certification in Teflon welding.