Diversified Fluid Solutions specializes in ultra-high purity chemical and gas systems for the semiconductor industry. Our product portfolio includes blending and delivery equipment for many applications in gas, aqueous chemicals, and CMP slurries.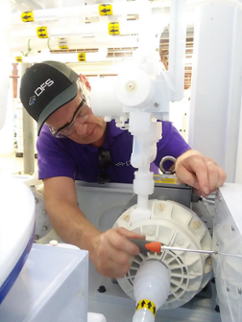 In addition to the design and manufacturing deep expertise, we also provide the required field support services, controls, integration, and technical expertise to meet stringent semiconductor process control needs.
With hundreds of systems installed since our founding in 2009, we have the hard data that demonstrates DFS fluid management systems increase process windows, maximize yields, improve wafer-to-wafer uniformity, optimize floor space, minimize downtime and lower overall operations costs.
We engineer precise, reliable, and space efficient systems with advanced monitoring and control through a state-of-the-art user interface.
Our specialties include:
Metrology-driven closed loop process control
Flexible, Scalable and Precise Gas & Chemical Delivery and Blending Systems
Increased Process Control via Blend Concentration and Pressure Control
Seamless Integration into SCADA with Full I&C Support